So it has been a while since I have contributed a Quilt Market post (or any post for that matter). Jen and the ladies have been doing a fabulous job posting blocks and inspiration for you!
Pittsburgh hosted Spring 2014 Quilt Market. My entire life since Fall Market has been a blur so I kind of forgot to book a flight... or a hotel... or register for Market - OOPS! BUT I did manage to schedule all of my fabric buying appointments! A girl has to have her priorities straight.
This time it was just me. No Frank, no entourage. Quilt Market is HUGE. I couldn't capture it all.
Welcome to the experience through my eyes!
This is a long rambling post, so grab your coffee and sit back! Thanks for reading!
Road Trip!
A road trip was in order! Feeling a little Thelma and Louise-ish, I packed up my stuffed animals, filled up with gas, got a mocha and hit the road. (Okay maybe Thelma and Louise didn't have had stuffed animals - and I didn't drive off a cliff.) I left a little late on Wednesday and really wanted to beat the storms, so I traveled through the night arriving just in time to be the second in line for late registration! The early arrival also made it possible to receive one of the coveted Cotton and Steel Schoolhouse totes!
Schoolhouse is a day of 15 - 30 minute sessions prepared by designers, vendors, fellow shop owners and industry educators designed to provide semi-annual continuing education for the busy shop owner - a.k.a. ME. For the second time, Quilt Market Schoolhouse day began with a spectacular "Premiere Schoolhouse" launching a new product line.
Cotton and Steel - New Fabric Company
Cotton and Steel, a brand new contemporary fabric line spin-off of RJR Fabrics, gave an amazing, inspiring presentation to the crowd. We saw a short film on fabric manufacturing prepared from the eyes of a quilting fabric designer. It was breath taking and inspiring!
Made in Japan: The C+S Manufacturing Process
from
Gregory Miller Pictures
on
Vimeo
.
Part of Quilt Market is like a fashion runway show. I don't know if the Milwaukee quilter is ready for Andy Warhol-esque mustangs on cotton linen, but I do know that Melody Miller and her fellow designers have connected with quilters everywhere in a very powerful way. "Leap and the Net Will Appear" is just one of the signature inspirations appearing on the selvage of her upcoming line.
Learning at School House
Blueprint Basics by Valori Wells
Valori Wells presented her Blueprint Basics and Color of the Week program. Valori now designs for Robert Kaufman Fabrics. Her debut line is a series of blenders released quarterly which work well as a group or simply as fillers for your favorite palette. Each week she provides photo inspiration on her blog. Focus fabrics are so fun and vibrant we often forget about those quiet tonal fabrics that are a must in most quilts. We have been stocking a greater variety of reorder-able tonal blenders at the store to help you in your quilt building.
We are proud to carry the complete series of Blueprint Basics.
http://www.valoriwells.com/blog/color-of-the-week-sunkissed
PreCuts, Precuts, Precuts
Everyone wanted to tell us the benefit of precuts (strips, squares, triangles, hexies, fat quarters). We have been a strong believer of convenience cuts for some time. We feature our own curated collections of 40 fabrics every month at Strip Club.... Did you see that? I learned a new phrase "curated collection"! Apparently when I pick a kit or a fabric set, it is
CURATED
! Ha! LOVE IT!
MODA fabrics has been on the cutting edge of precut technology for some time. Now everyone is getting into the act and inventing new cuts! All of the manufacturers were touting the benefits of providing coordinated pre-cut fabrics ready to go for your next project.
Imagine what our quilting ancestors would say. We have gone from recycling scraps into quilts to keep us warm at night to being able to buy precision cut shapes, perfectly coordinated into sets so that we can make quilts in only a few days or hours. WOW!
Love it or hate it, pre-cuts have made it easier to make scrappy quilts without having to painstakingly collect, sort and cut stash.
My favorites are fat quarters and 2 1/2" strips! I love the magic number "40" too! I think it is much easier to pick forty fabrics than it is to be six or less for a quilt. The more fabrics you have, the more forgiving your fabric choices.
Modern Basics
What are modern basics? We saw Valori Wells' Blueprint Basics earlier in this post. Michael Miller shared a selection of dot, gingham and herringbone patterns in a rainbow array of colors. Adding a splash of white, these subtle prints can be used as blenders too.
Batiks!!!
Everyone is making batiks these days! While almost every fabric manufacturer is producing batiks these days, we continue to carry what we believe to be the best selection from the industry leaders in batik making.
Robert Kaufman samples from the Artisan Batik Schoolhouse.
Hoffman California Fabrics Series 7 Bali Pops debuting this fall!
Edyta Sitar of Laundry Basket Quilts from MODA fabrics has another fabulous booth. We are anxiously awaiting her Snowbird Collection this June!
Sample Spree!
After a long day of learning, I have the opportunity to buy stuff. Since I drove, I could buy a LOT of stuff. I've worked really hard to bring back lots of goodies to show you in person. Barb and Mary from
Me & My Sister Designs
caught me in the act!
Trends, Observations and Ramblings...

Digital Prints
Wow! Everything is changing! While I have not jumped on the digital bandwagon, I would be negligent if I failed to tell you about digitally printed fabrics.
Most of us are familiar with Spoonflower. A site you can upload a photo or design and print your own yardage at a premium price. The fabric has a reasonable likeness to what you imagined and has much better colorfastness than images printed on specially treated fabric off your ink jet printer at home.
Traditional screen prints may quickly become a thing of the past. Screen printing is limited to a set number of screens/colors and requires a large yardage commitment to be commercially printed. Digital printing is only limited to the designer's imagination and can be printed in virtually any yardage desired.
Currently offerings are limited and significantly more expensive than traditional screen prints or batiks available in the industry, yet offer an interesting insight on what the future may hold.
Deer
I've reported on birds, butterflies, owls, hedgehogs, foxes... get ready - the latest trend is DEER. They are EVERYWHERE!
Tula Pink - Moonshine Arriving at Patched Works Soon!
Michael Miller
Cotton and Steel
Even a quilt in Hoffman California Fabrics Booth
Art Gallery Fabrics
Solids, Solids and MORE Solids
Robert Kaufman is adding 28 colors to the massive selection of solids. Did you know Patched Works is proud to stock the entire library of KONA colors?
We have the new colors on order to arrive this summer!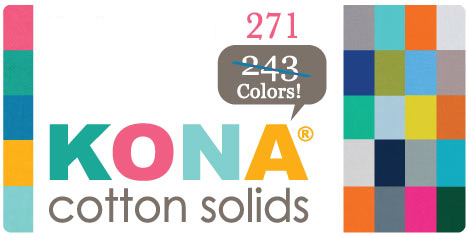 Almost every manufacturer has a brilliant line of solids. We carry close to 500 true solids from a variety of manufacturers.Solids offer a true paintbox to play. While the new modern quilter sometimes use exclusive solid palettes, don't be afraid to mix solids into your everyday quilt when you need that perfect color. Solids are available at an attractive price point less than most screen prints. PW Solids Club members enjoy a 20% discount on solids every day!
Hot Color Trends
Navy Blue, Burnt Orange, Grey, Green, Magenta, Teal.... and METALLIC ANYTHING.
There is soooo... much more to say, but I want to wrap it up so that I can publish and you can actually read something! :-)
Check Out My Flickr Album!
Want to see more?
Check out more pictures from my trip!
Didn't Get Enough... Post Market Review Live!
For local PW customers, we are offering a live Post Market Review Friday, June 13th at 6:30 PM. Reservations are required as a limited number of spots are available. A reservation fee of $15 includes a swag bag and amazing door prizes.
We are accepting reservations in person and by phone (262) 786-1523.