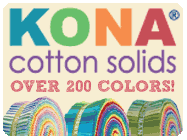 One of the best parts of starting a new school year was getting a new box of crayons. A simple pleasure of 24 perfectly shaped wax tools that were cleaverly wrapped so that my hands would not get messy when I used them to color. As I grew older, the box of crayons got bigger, but the joy never changed. Today I don't color often, however I maintain my fascination with new crayons.
Solids are like crayons. Simple and beautiful. Each individual fabric may seem boring or mundane. No texture, no depth of color, no pattern. A utility fabric of sorts. Together they create a spectacular array of color. Use them as your personal crayon box when you need that specific color to match your palette. Pick a bunch for a contemporary styled piece. Turn to the selection for an artful yet cost conscious choice for a quilt back.
We are proud to carry the entire Kaufman KONA color solid specturm. Each fabric is carefully labeled and shelved in color card order. If we happen to be out of stock of a specific color you need, let us know so we can call you when the color comes back in stock. If you have a special project, email us your palette requirements and we will happily pre-cut your selection for you. If you are excited to use solids, but are afraid to take the leap, let us know and we will gladly set you in the right direction.
If you wanted to take a peek at a great local quilt designer who LOVES solids, check out
the blog of mamaCJT
.
Please let us know how you use KONA solids!